Description

TASTING NOTE
Part of the vineyards are arranged in one of the routes through which the Camino de Santiago takes place. In the town of O Barco, the Torrizola plots of old vines that are over 60 years old, and No Serro with more than 150, they confer that pure and authentic Galician character.
Slaty soil and continental climate, the Atlantic influence is made patent with extreme temperatures between summer and winter, that result in high quality wines. The key to the development of this expressive red has been to get the right touch of wood to not eliminate the freshness and the primary memories of the Mencía grape. It has been 5 months of perfect Crianza aging in American and French oak barrels and a rest of not less than two months in bottle, before going out to the market and enjoying this magnificent "elixir."
It will develop in the bottle in the years to come.
It presents a transparent ruby ​​color with aromas of red fruits, currants and blackberries. In the mouth, it is balanced, subtly accompanied by notes of raisins and ripe fig jam.
Ideal with foie-micuit, steak tartare, red meats and gamey dishes.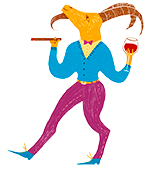 TECHNICAL INFORMATION
DESIGNATION OF ORIGIN: Valdeorras
TYPE OF GRAPE: Mencía
ALCOHOLIC GRADE: 13 %
TOTAL ACIDITY: 5.45 g/L.
Ph: 3.64
RESIDUAL SUGAR: 1.5 g/L.
VOLUME: 75 cl.
APPROPIATE TEMPERATURE FOR SERVING: 14-16ºC / 58-62 ºF
<

TASTING NOTE
Vineyards with slate soils and continental climate with Atlantic influence. The temperatures are cold in the winter and hot in the summer, a fact that favors the perfect maturation of the grapes, contributing to the Camino de Cabras Godello wine the personality and originality of this Galician Land. To produce this magnificent white wine, grapes from their own vineyards have been used in the town of O Barco, ranging from 15 to 60 years old, located about 450 meters above sea level. Manual harvest carried out in the first half of September and selection of the best grapes to enter the winery. 24-hour film maceration for 24 hours at 10ºC and alcoholic fermentation in stainless steel tanks at controlled temperatures at 14 ºC for 25 days. Finally the wine will be filtered and bottled with a rest period of 45 days before its put on the market.
Straw yellow color. Intense fruity aromas, apple, pear, white flowers, balanced in the mouth, silky, elegant, full and fresh on the palate. It transmits a perfect acidity and leaves us with a long mineral sensation.
It pairs perfectly with rice, Italian pasta, fish and all kinds of seafood. Ideal with lobster salad and sea bass with salt.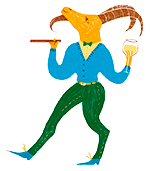 TECHNICAL INFORMATION
DESIGNATION OF ORIGIN: Valdeorras
TYPE OF GRAPE: Godello 100%
ALCOHOLIC GRADE: 13 %
TOTAL ACIDITY: 5.45 g/L.
Ph: 3.32
RESIDUAL SUGAR: 3.3 g/L.
VOLUME: 75 cl.
APPROPIATE TEMPERATURE FOR SERVING: 8-10ºC / 46-50 ºF