Spain's wines are a very accurate measure of how refinement and sophistication have reached their most distinguished elaborations. Spain is a worldwide producer of reds, whites, sherry and cavas: there are approximately 5,500 wineries that produce around 3,300 million liters of wine per year. Without a doubt, wine and its history are a very important part of the Spanish economy.
The main Spanish wine guides, like international "gurus," become the best advisors for lovers of the best wines.
Appearing in "Guía Peñín," "Sin mala Uva," or "James Suckling" is a guarantee of quality for a wine, and reaching the best scores and recommendations catapult you to the top of the list of chosen wines!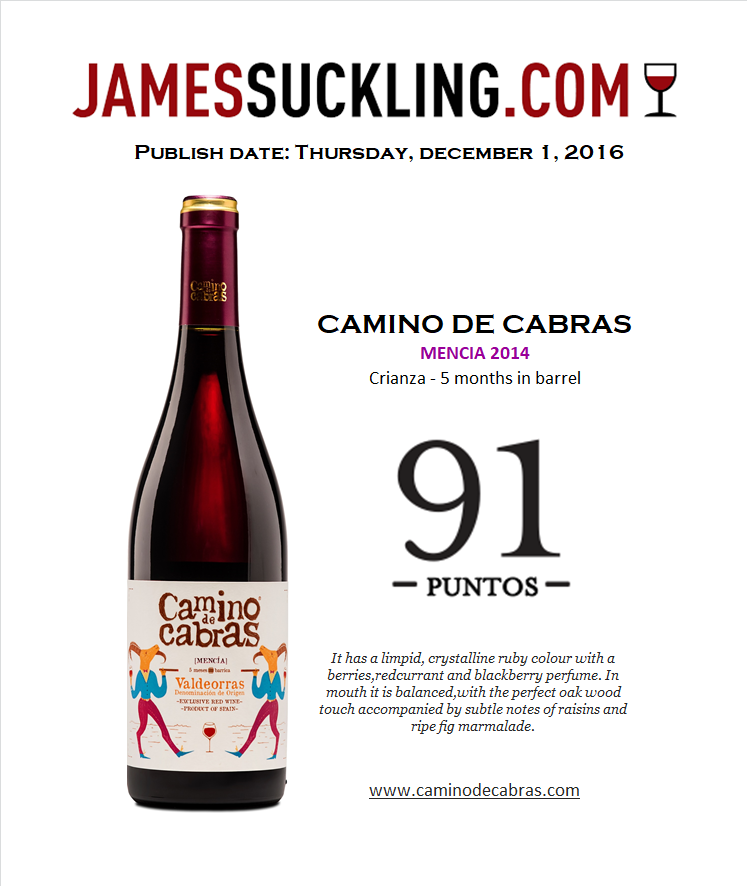 The wine guru James Suckling awards the "Camino de Cabras" wine prize."
James Suckling, one of the most recognized international critics, featuring in the Times, Wine Spectator and Forbes, has just published his 2018 ratings for Spanish wines.
There were more than 2500 wines tasted for this edition, where the keys to the development of Spanish wines were given, and the balance created with the red wines was confirmed; more centered on pure fruit with a pronounced but non-dominant oaky character, while the Galician white wines continue to be seen as a standard in the international category from the Iberian peninsula.
The CAMINO DE CABRAS "Galician Trilogy" wines received excellent scores, confirming the 'gourmet' status of all their creations.
In the Valdeorras denomination of origin, we highlight the 90 points obtained by the select, mineral white wine – CAMINO DE CABRAS Godello 2017 and the 91 points for the daring red wine CAMINO DE CABRAS Mencía 2016 with 5 months slow aging in American and French oak casks.
The Rías Baixas representative, CAMINO DE CABRAS Albariño 2017 also received a splendid 91 points, perfectly cultivated in the fresh Atlantic air, and which we are invited to enjoy ourselves during the summer months.
Great wines for great times! And what better time than the summer vacations to taste and enjoy them in good company.